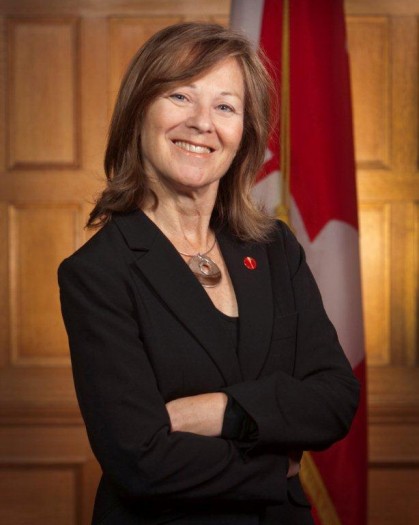 The Honourable Judith Seidman was appointed to the Senate on August 27, 2009. Prior to this appointment, she spent most of her career as a health research professional in the McGill University hospitals in Montreal, Quebec. As a research fellow at the Montreal Neurological Institute and Hospital, and as an Associate Professor of Social Work at the McGill School of Social Work, Judith's research and teaching focused on program and services evaluation, and the psychosocial determinants of health and illness. Judith was a National Health Research Doctoral Fellow (NHRDP) in Epidemiology and Biostatistics while she studied the role that social supports play in chronic disease outcomes. She was also actively engaged in aging-related research as a member of a community health team (CLSC) and as the Project Coordinator for the Canadian Study of Health and Aging.
Born in Montreal, Judith has always been committed to public service. Her community involvement has focused on the education and health sectors, and she has served on many committees and boards including the Allan Memorial Institute Advancement Fund, McGill Society of Montreal, Education Task Force of the McGill Centre for Studies in Aging, Alumni Committee of the McGill School of Social Work, Working Group on Continuing Studies in Social Work, and the Evaluation Committee for Community Health Research Program of Montreal.
Senator Seidman was proud to serve as a member of the Jury for the Governor General's Awards in Commemoration of the Persons Case.
As a former member of the Standing Senate Committee on Human Rights, Senator Seidman studied issues of global consequence. Among the studies the committee undertook, one reported on how the mandates and practices of UNHCR and UNICEF have evolved to meet the needs of displaced children in modern conflict situations, with special mention of Syria.
A member of the Standing Senate Committee on Social Affairs, Science and Technology, Senator Seidman has worked on studies of import to the health and social services fields, including a review of the federal-provincial Health Accord. In addition, a ground-breaking series of reports ensued from a four-part study on prescription pharmaceuticals in Canada, covering clinical trials, post approval monitoring, off-label use, and unintended consequences.
A member of the Standing Senate Committee on Energy, the Environment and Natural Resources, Senator Seidman has been engaged in several studies including a review of the bulk transport of hydrocarbons in Canada. The committee's most recent report – "Power Canada's Territories" – is the product of an extensive study on non-renewable and renewable energy development including energy storage, distribution, transmission, consumption and other emerging technologies in Canada's three northern territories.
A member of the Standing Senate Committee on Official Languages, Senator Seidman traveled through her home province of Quebec on a fact-finding study that would inform the report "The Vitality of Quebec's English-Speaking Communities: From Myth to Reality". The most recent report, "Aiming Higher: Increasing Bilingualism of our Canadian Youth", offers important recommendations for teachers' education.
A member of the Special Joint Committee on Physician-Assisted Dying, Senator Seidman reviewed recent reports by the External Panel on Options for a Legislative Response to Carter v. Canada, the Provincial-Territorial Expert Advisory Group, and the Canadian Medical Association. The Committee held 16 meetings, heard from 61 witnesses and received over 100 submissions from experts, stakeholders and Canadians alike. The Special Joint Committee tabled its report on February 25, 2016 and put forward twenty-one recommendations for a legislative framework related to physician-assisted dying that respects the Constitution, the Charter of Rights of Freedoms, and the priorities of Canadians.
Senator Seidman also serves as a member of the Standing Senate Committee on Rules, Procedures, and the Rights of Parliament.